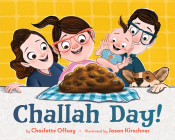 $18.99

On Our Shelves in the last 24 hours. Click to see a specific store location's stock.
Description
---
"An oasis of Jewish joy." --School Library Journal

Baked with love! A family mixes, kneads, braids, and bakes bread for dinner with Grandma and Grandpa in this joyful, rhyming story.

Inspired by memories author Charlotte Offsay and illustrator Jason Kirschner have of baking Challah with their children, Challah Day celebrates the sweetness of sharing homemade food as a family.

Yeast and sugar - water's warm,
mix and watch those bubbles form!
Crack the eggs – one… two… three… four
Extra if some hit the floor.

This read aloud can be a joyful introduction to a new culture or a cozy way to celebrate a familiar one. Perfect for any occasion as a holiday gift or the start of a new weekly tradition.

In the back of the book, read about the cultural importance of Challah and Jewish traditions. A Challah recipe is included.

"It's time to make the challah, and this loving Jewish family is ready for a day of fun."—Kirkus Reviews
About the Author
---
Charlotte Offsay was born in England, grew up in Boston, and currently lives in Los Angeles with her husband and two small children.Through her work, Charlotte hopes to make children laugh, to inspire curiosity, and to create a magical world her readers can lose themselves in time and time again. She is the author of The Big Beach Cleanup, How to Return a Monster, and A Grandma's Magic. She enjoys baking Challah with her two children every Friday. Learn more about Charlotte at charlotteoffsay.com and follow her on Twitter at @COffsay and on Instagram at @picturebookrecommendations.

Jason is the author and illustrator of Mr. Particular: The World's Choosiest Champion. When not writing and illustrating, Jason is an Emmy-nominated set designer for television. His credits include The Meredith Vieira Show, Late Night with Conan O'Brien and The Late Show with David Letterman. He has baked plenty of challahs with his wife and teen twins, although they always get hung up at the braiding stage because it isn't as easy as it looks. You can find his work at jasonkirschner.com or on Instagram at @jkirsch118.
Praise For…
---
"Retro cartoon styling and smooth digital art in a color palette of green, blue, yellow, and pink give the illustrations a graphic pop-art feel that complements its warmth and whimsy. Light and fluffy as a fresh challah, this book would be useful as an educational lead-in to a program on Jewish holiday traditions."—The Bulletin for the Center of Children's Books

"A timeless Shabbat tradition sweetly told."—Kirkus Reviews

"Verve reminiscent of a vintage musical number, and crisp digital artwork that nods to 1960s animation. . . ."—Publishers Weekly

"In a time when Jewish people are facing violence and antisemitism, this book is an oasis of Jewish joy. Not just for cultural collections, but for family shelves, children's baking sections, and any collection that celebrates gatherings and love."—School Library Journal
 
"A sweetly straightforward and celebratory read for Jewish families as well as those wanting to learn more about Jewish culture. Offsay's jaunty and quick-paced rhyming couplets are perfect for reading aloud. . . . Matching the bouncy tone of Offsay's writing, Kirschner's charmingly dynamic illustrations highlight the characters' actions. . . ."—BookPage