Origami Butterflies Kit: The Lafosse Butterfly Design System - Kit Includes 2 Origami Books, 12 Projects, 98 Origami Papers: Great for Both Kid (Other)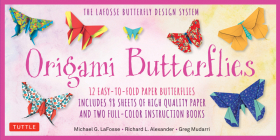 $11.99

Not currently on our shelves, but available to order (usually within a few days)
Description
---
Make colorful and fun origami butterflies with this easy origami kit.
Anyone would look twice at a flower with one of these paper butterflies perched on it This unique collection of origami designs will help you create folded paper models of familiar and exotic butterflies from around the world. All of the folds are simple enough to be origami-for-kids projects and are a great way to learn origami. The origami paper in the kit already has printed patterns, so no paint or glue is required, just unpack and start folding right away
The origami kit contains:
Two full-colored, 32-page booklets
Clear step-by-step instructions
Easy-to-follow diagrams
A butterfly design system and tips
12 simple origami butterfly projects
98 sheets of durable, authentic origami folding paper
A variety of different colors and patterns
Origami Butterflies Kit
provides you this stunning collection of origami projects that will have you creating a butterfly house in no time
Origami projects include:
Fritillary
Swallowtail
Zebra Longwing
And much more...
About the Author
---
Origami Master Michael G. LaFosse has been an origami artist for over 40 years, and is considered a leading authority and master of the art. An avid teacher, LaFosse cofounded the Origamido Studio, a learning center and design studio dedicated to the art of origami, and the only place in the world specializing in hand papermaking for the origami artist. Author of many books and videotapes relating to paperfolding and hand papermaking, LaFosse produces fine paper art and commercial designs for a variety of international clients. He was prominently featured in the recent Peabody Award-winning documentary, Between the Folds. Richard L. Alexander cofounded the Origamido Studio, where he is the chief papermaker. As a designer his specialties have included biology (systems ecology) and landscape architecture. Together, Alexander and LaFosse have created dozens of origami exhibitions, and more than seventy books, kits, and videos about paper and paper arts. Greg Mudarri was an instructor, papermaker and graphic designer at Origamido Studio.