Lost and Found: Time, Tide, and Treasures (Hardcover)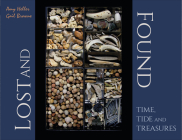 $34.99

The book is not currently in stock at our stores. Please call us for price and availability.
Description
---
Tools, pipes, pottery, scavenged wood, and doll parts are among the startling artifacts that have been exposed by the retreating tides in Provincetown, Massachusetts, the oldest continuous art colony in the US. Until the 1930s, the harbor was also the town dump, and six contemporary artists with a keen eye for color, shape, and texture have amassed collections based on their individual intuition and aesthetic. Beachcombers, historians, artists, and coastal New Englanders will be fascinated by these objects--dating from indigenous peoples to the 21st century--and the art they've inspired in various mediums. Nearly 500 photographs and interviews with the artists create a unique narrative filled with wit, whimsy, and creative vision.
About the Author
---
A native of Washington, DC, artist Amy Heller has been coming to Provincetown every summer since she was a child, walking and combing the beaches with her mother. Amy earned her BA in fine art at Hampshire College in Amherst, Massachusetts, and her MFA in photography at George Washington University in Washington, DC. She has been an exhibit specialist for the Smithsonian Museums and the National Gallery of Art, and a photo editor/researcher/curator for US News & World Report, National Geographic, Microsoft, and the Newseum in Washington, DC. She lives year-round on Cape Cod with her husband. Gail Browne was born in Lakewood, Ohio, into a family of artists. Studying at the Cleveland Institute of Art, in 1966 she began spending her summers painting and working in Provincetown. After receiving a BFA in 1970, she moved to Provincetown permanently and began her career as a beachcomber.