Tombstone: Relive the Gunfight at the O.K. Corral (Paperback)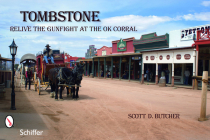 $9.99

The book is not currently in stock at our stores. Please call us for price and availability.
Description
---
The "Gunfight at the O.K. Corral" has made Tombstone, Arizona, the most famous Wild West town in America. A century and a quarter after the Earp brothers and Doc Holliday faced off against the Clanton and McLaury brothers, their story continues to captivate and polarize. Tombstone includes a detailed account of the famous street fight as well as 100 colorful photos of the western town--historic Allen Street, Tombstone Courthouse State Park, Boot Hill Cemetery, early public buildings and churches, and more. Combined with informative captions, these images tell the many stories of this iconic town. Experience a taste of the Wild West. Experience Tombstone.
About the Author
---
Scott D. Butcher is an author and photographer based in York, Pennsylvania. He is the author of Gettysburg Perspectives, Delaware Reflections, York: America's Historic Crossroads, and Spooky York, Pennsylvania.