Cut & Run Logging (Paperback)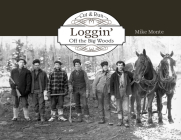 $19.99
Email or call for price.
Description
---
An unprecedented rape of Mother Nature from the 1880s to the 1940s completely changed the wooded landscape in the northern Great Lakes region of America as well as the society and ecology forevermore. In this time of empire building, logging towns grew like weeds around sawmills and often died when the last tree was cut. The people living there called it "cut and run." This fascinating book presents true-life photographic images of the loggers and the people they touched. Here we see the lumberjacks and river pigs who began the work, railroad loggers who extended the range and types of logs available, and a close-up look at one town in the wilderness. With hard work written across their faces, these men and women who dedicated their lives to the logging industry earn the respect of today's readers through the dynamic photographs and poignant stories related here. To build American towns, they toiled to make the lumber available; they succeeded and became legendary.
About the Author
---
Mike Monte comes from a family of logging men in Crandon, Wisconsin. He is a professional writer and researcher for The Northern Logger.