Jubilee!: One Man's Big, Bold, and Very, Very Loud Celebration of Peace (Hardcover)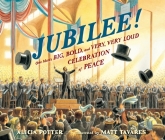 $16.99

The book is not currently in stock at our stores. Please call us for price and availability.
Description
---
An exuberant picture book applauds the man behind the 1869 National Peace Jubilee, the largest and loudest concert the world had ever seen — or heard.

As a young boy growing up in Ireland, Patrick Sarsfield Gilmore loved music — the louder, the better! This love of music followed him to Boston in 1849, where he became a bandleader. During the brutal Civil War, it was music that kept up his spirits and those of his fellow soldiers. So when the war ended and peace was restored to the country, Patrick had an idea. He would create the biggest, boldest, loudest concert the world had ever known to celebrate. A peace jubilee! But with twelve cannons, forty church bells, one thousand musicians, and ten thousand singers, just how would all of this sound? Matt Tavares's spirited illustrations burst with sound words in perfect harmony with Alicia Potter's triumphant story of the joy of music.
About the Author
---
Alicia Potter is the author of Fritz Danced the Fandango, illustrated by Ethan Long, and Mrs. Harkness and the Panda, illustrated by Melissa Sweet. Alicia Potter lives in Boston.

Matt Tavares is the author-illustrator of Zachary's Ball, Oliver's Game, Mudball, Henry Aaron's Dream, There Goes Ted Williams: The Greatest Hitter Who Ever Lived, and Becoming Babe Ruth. He is also the illustrator of numerous picture books, including The Gingerbread Pirates by Kristin Kladstrup, Lady Liberty: A Biography by Doreen Rappaport, and 'Twas the Night Before Christmas. Matt Tavares lives in Ogunquit, Maine.
Praise For…
---
Potter's prose and Tavares's paintings deliver a rousing performance themselves—the sea of humanity packed into the Temple of Peace as the concert begins is breathtaking, and a testament to the immense power of music.
—Publishers Weekly (starred review)

Potter maintains suspense throughout—no concert this large had ever been attempted, and critics were vehement that it could only produce cacophony. Tavares' watercolor-and-gouache paintings magnificently capture crowds, street scenes, and individual expressions, while the typeface makes the individual instrumental and street sounds leap from the page. It's just as Potter writes at the book's end: "So very, very LOUD! And so very, very beautiful."
—Booklist

While Gilmore is not well-known among today's audiences, Potter offers a refreshing and episodic view of his life and contributions to American culture. An extensive author's note provides more depth to the legacy left by such an influential figure, whose musical contributions have unfortunately been overshadowed by the accomplishments of his contemporaries. Tavares's bright and cheerful artwork illustrates Gilmore's inspiration from everyday sounds while evoking the lighthearted ebullience of the power of music. This is both a tribute to one man's talent and an insightful look at a different period of history.
—School Library Journal

Potter employs a direct, accessible narration to describe the years of painstaking preparation and carefully builds anticipation for the main event. Words that represent sounds stand out in large bold type of varying designs; they are incorporated into Tavares' illustrations, rendered in softly hued watercolor, gouache, ink and pencil. ... Lovingly evokes a lost time.
—Kirkus Reviews

The audacious scope of the jubilee, precursor and, no doubt, rival to thunderous arena rock, is a natural hook for young listeners, who will be surprised to learn that their staid ancestors also appreciated musical excess.
—Bulletin of the Center for Children's Books

The book's text is geared towards young children, with short sentences and simple words. Ending pages offer additional information on Gilmore and his contributions. This book fits well with music and history classes, and the moral of sticking with one's dreams.
—Library Media Connection