Star Trek Pop-Up Notecards: 10 Notecards and Envelopes (Other printed item)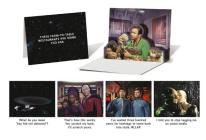 $15.95

On Our Shelves in the last 24 hours. Click to see a specific store location's stock.
Description
---
Send a note, greeting, or Vulcan salute to friends and family with this unique set of 10 pop-up notecards, featuring iconic scenes from Star Trek history.
The set includes:
10 notecards, each featuring a pop-up scene, short description on the back of the card, and blank space for your own personalized message. Set includes 2 cards each of 5 different designs.
10 blank envelopes
Full-color printed box to house cards
TM & © 2019 CBS Studios Inc. STAR TREK and related marks are trademarks of CBS Studios Inc. All Rights Reserved.
About the Author
---
Chip Carter began his trek into the written world with numerous Star Trek trading cards. He wrote the Obsessed With Star Trek trivia book, gift books highlighting Star Trek technology, and continues to work on licensed products including thousands of questions for Trivial Pursuit sets for TheWalking Dead, Harry Potter, and, of course, Star Trek.