Crayola Crayon Magnets (RP Minis) (Paperback)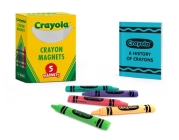 $10.95

On Our Shelves in the last 24 hours. Click to see a specific store location's stock.
Description
---
Color your world with this nostalgic set of Crayola 3D Crayon Magnets—perfect for the fridge, your office, or the playroom!
Housed in a die-cut box designed to mimic the classic Crayola box you know and love, this set includes:
5 vibrant 3D crayon magnets in fan-favorite colors Razzmatazz, Macaroni and Cheese, Screamin' Green, Robin's Egg Blue, and Purple Mountains' Majesty
A 48-page book on Crayola crayon history
About the Author
---
Crayola LLC, based in Easton, Pa. and a business of Hallmark Cards, Inc., is the worldwide leader in children's creative expression products. Known for the iconic Crayola Crayon first introduced in 1903, the Crayola brand has grown into a portfolio of innovative art tools, crafting activities, and creativity toys that offer children innovative new ways to use color to create everything imaginable.