Mesmerized: How Ben Franklin Solved a Mystery That Baffled All of France (Prebound)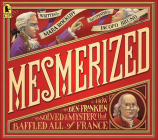 $18.80

The book is not currently in stock at our stores. Please call us for price and availability.
This book cannot be returned.
Description
---
"Together, Rockliff and Bruno make the scientific method seem exciting, and kids interested in science and history will likely be, well, mesmerized." -- Booklist (starred review)
When American inventor Benjamin Franklin arrives in Paris, he is upstaged by a compelling and enigmatic figure: Dr. Mesmer. In elaborately staged shows, Mesmer has Parisians believing he can control a magic force that changes the taste of water, cures illness, and controls thoughts Can Ben Franklin's approach of observing, hypothesizing, and testing get to the bottom of Mesmer's tricks? A rip-roaring, lavishly illustrated peek into a fascinating moment in history shows the development of the scientific method -- and reveals the amazing power of the human mind.
About the Author
---
Mara Rockliff is the author of many books for children, including The Busiest Street in Town and Me and Momma and Big John, winner of a Golden Kite Award. Mara Rockliff lives in eastern Pennsylvania with her family. Iacopo Bruno is an illustrator and graphic designer living in Milan, Italy.