The Moth Presents: A Game of Storytelling (Cards)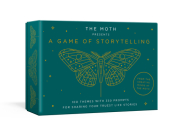 $17.99

Not currently on our shelves, but available to order (usually within a few days)
Description
---
From the storytelling experts at The Moth, an interactive card deck that uses true stories to encourage lively conversations, spark creativity, and improve your public speaking abilities.

Since 1997, The Moth has engaged thousands of fans through their celebrated live shows, workshops, and The Moth Radio Hour and The Moth Podcast. A Game of Storytelling features 100 themes, including Love Hurts, Mama Rules, Busted, Fuel to the Fire, Lifelines, Hot Mess, Chemistry, Duped, and many more. Over 300 additional prompts offer riffs on the themes to spark your stories.

There are multiple ways to play:

• All In: Pull a card and ask everyone at the table to share a story based on the theme and prompts.
• Getting to Know You: Each player gets a card and shares a story based on their card's theme and prompts.
• Best in Show: Teams of two swap stories based on a card theme and prompts, then decide which story  to share with the larger group.
• Competitive StorySLAM: The host pulls a card at random then reads the theme and prompts. Players think of a story and pitch it to the group by sharing three key words related to it. The players then vote on which story they want to hear!

Use these cards with friends, family, colleagues, classmates, and roommates to connect and revel in the things that make you laugh cry, think deeply, and reimagine the world.
About the Author
---
The Moth is an acclaimed nonprofit organization dedicated to the art and craft of storytelling. Since its launch in 1997, The Moth has presented more than 50,000 stories and received the MacArthur Award for Creative and Effective Institutions and a Peabody Award for The Moth Radio Hour, which airs on over 550 stations nationwide. The Moth Podcast is downloaded 90 million times annually. Meg Bowles, Catherine Burns, Jenifer Hixson, Sarah Austin Jenness, and Kate Tellers, along with The Moth's artistic and workshop teams, have directed tens of thousands of stories told on stages worldwide.