T-Rex Tries Again: Return of the King (Hardcover)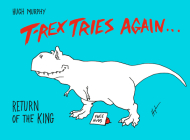 $14.00

The book is not currently in stock at our stores. Please call us for price and availability.
Description
---
A hilarious gift and perfect stocking stuffer, the third installment of the T-Rex Trying series features simple, charming, and hilarious illustrations depicting the hapless T-Rex and family doing their best in a world made for creatures with smaller heads and longer arms.

For the last six years, the lovable, hilarious T-Rex family--T-Rex himself, his partner She-Rex, and their adorable child, Wee-Rex--have charmed readers and dinosaur lovers throughout the nation. With a sweetly funny tone and truly adorable illustrations, the new collection will include all-new material, featuring T-Rex and family in situations like these:

T-Rex trying to hail a cab...
T-Rex trying to shear a flock of sheep...
T-Rex trying to grab the toys at the bottom of his pool...
T-Rex trying to put a comforter inside a duvet cover...
T-Rex trying to play the bagpipes...
T-Rex trying to cut down a tree with a two-person saw...
T-Rex trying to feed a horse through an electric fence...
T-Rex trying to plug in a lamp behind the bed...


This book will leave you applauding (like T-Rex can't) and wiping tears from your eyes (like T-Rex wishes he could), but most of all, it will leave you wondering how on earth this animal survived a day, let alone the entire Cretaceous Period.
About the Author
---
Dr. Hugh Murphy is a Prosthodontist living and practicing in Raleigh, NC.  He created T-Rex Trying while in dental school and enjoys seeing all of the laughter and amusement his books bring to his readers.  He loves drawing, painting, fly-fishing, nature and most of all, spending time with his family.