Mexico (Follow Me Around) (Follow Me Around...) (Hardcover)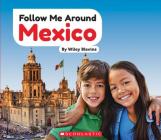 $27.00

The book is not currently in stock at our stores. Please call us for price and availability.
Description
---
Have you ever wondered what it's like to live south of the border?Twin tour guides Rosa and Pedro will take readers along on a detailed tour of their home country, Mexico. Along the way, they'll offer an insider's look at Mexican life, from what their house looks like to what their family has for dinner. They will also show off some of Mexico's most incredible places, teach readers some simple Spanish phrases, and more.
About the Author
---
Wiley Blevins has taught elementary school both in the United States and South America. He completed his undergraduate work in Elementary Education at Bowling Green State University and his graduate work in Education at Harvard University. Currently Editorial Specialist for Early Reading at Scholastic, Inc., Blevins is the author of several books on phonics instruction, including Phonemic Awareness Activities for Early Reading Success, Quick-and-Easy Learning Games: Phonics, and Phonics from A to Z: A Practical Guide.
Praise For…
---
Praise for Ten Tiny Toes"The brief, lyrical text, the opportunities for interactivity and the focus on a subject dear to toddlers' hearts--themselves and all their glorious parts -- make this a candidate for repeat readings." --KirkusPraise for Let's Get Dressed!"Church's cartoon toddler and a puppy are delightfully animated..." --KirkusPraise for Potty Time!"The cheerful images and fun sound effect provide gentle encouragement for the potty training camp." --Publishers WeeklyPraise for Good Night, I Love You"A quiet depiction of self-reliant slumber." --KirkusPraise for I Love You Through and Through"Dynamic illustrations...act out the text in ways that are informative, inventive, and humorous." --School Library Journal