If You Were a Kid in the Thirteen Colonies (If You Were a Kid) (Paperback)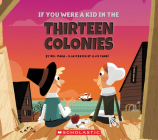 $7.95

Not currently on our shelves, but available to order (usually within a few days)
Description
---
Get a first hand look into the early days the North American Colonies.It is winter of 1724 in the North American colonies. With her mother sick in bed and her father away on business, Charlotte Sheppard is left to watch over her younger siblings and the family farm as a dangerous storm blows in overnight. Meanwhile, Charlotte's friend Elijah Coth is concerned that his immigrant family will return home to Holland after so many setbacks on their own farm. Readers (Ages 7-9) will join Charlotte and Elijah as they work together to make repairs and feed their families in the aftermath of the storm.
About the Author
---
After illustrating more than 100 books over the past 20 years, Lluís Farré has drawn about 40 witches, 200 dragons, 500 princesses (and the corresponding princes), and more than 1,000 kids from different parts of the world and different moments in history. He lives in the coastal city of Barcelona, Spain.
Wil Mara, a lifelong fan of the National Football League, is the author of more than seventy-five books. He has written both fiction and nonfiction, for both children and adults. Aside from his " NFL novels, " he also wrote the 2005 disaster thriller Wave, which won the 2005 New Jersey Notable Book Award.