If You Were a Kid During the American Revolution (If You Were a Kid) (Paperback)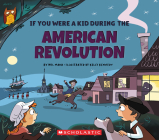 $7.95

Not currently in stock, but we are happy to backorder and notify you when it arrives.
Description
---
Get a first hand look of the early days of the American Revolution.When British soldiers accuse Samuel Richardson's father and uncle of being rebellious Patriots, Samuel must work together with his cousin Molly to help the family make an escape. Readers (Ages 7-9) will follow along on the cousins' adventure as they witness the early days of the American Revolution and come up with a daring plan to save their fathers.
About the Author
---
Wil Mara, a lifelong fan of the National Football League, is the author of more than seventy-five books. He has written both fiction and nonfiction, for both children and adults. Aside from his " NFL novels, " he also wrote the 2005 disaster thriller Wave, which won the 2005 New Jersey Notable Book Award.