Richard Long: Many Rivers to Cross (Hardcover)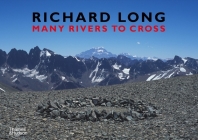 $70.00

Not currently on our shelves, but available to order (usually within a few days)
Description
---
A comprehensive overview of Richard Long's career, selected by the artist himself and encompassing his artworks from the 1960s to today. 
Richard Long has been at the forefront of land art for more than half a century. A pioneer of conceptual practices in the 1960s, Long takes sculpture out of the studio into nature and around the world, using time, space, distance, navigation, perception, the elements, and the geological forces that have shaped the landscape as both his tools and his vocabulary.
Many Rivers to Cross is a personal overview of Richard Long's career, including works selected by the artist and spanning the late 1960s to the present day. It covers his practice in all its forms: walks, photographs, text works, large installations, mud works, and drawings, including some early unpublished works as well as many seminal and celebrated projects.
A number of short backstories written by Long not only provide insight into the context and making of key works, but also evoke the sense of freedom and adventure of an epic journey across foreign landscapes. Texts include a recent conversation between Long and internationally acclaimed composer and musician Nitin Sawhney; a dialogue about the recreation of Muddy Water Circle at Frieze Masters in London with Lisson Gallery; and a discussion with curator Alkistis Dimaki on the occasion of the presentation of Athens Slate Line at the Acropolis, Athens. The book also includes documentation of works presented internationally in museums and galleries. 
About the Author
---
Sir Richard Long, CBE, is one of Britain's foremost sculptors and land artists. Short-listed four times for the Turner Prize, he won the award in 1989 for White Water Line. He was elected to the Royal Academy of Arts in 2001 and for more than fifty years his work has been exhibited at major galleries throughout the world. Richard Long lives and works in Bristol, the city in which he was born.