Frida (Spanish Editiion) (Paperback)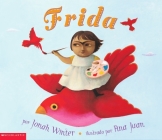 $6.99

Not currently on our shelves, but available to order (usually within a few days)
Description
---
This long-awaited companion to Jonah Winter's acclaimed DIEGO feature the paintings of young Spanish artist, Ana Juan. This stunning picture book is the perfect gift for art enthusiasts of all ages.Cuando su madre la deja a cargo de sus cinco hermanas, su padre la enseña a utilizar los pinceles y a colorear. Cuando una enfermedad la hace guardar cama durante meses, Frida dibuja para no aburrise. Cuando un accidente en autobús la sume en el dolor, Frida expresa su tristeza y depresión en sus pinturas. Una y otra vez, durante toda su vida, Frida Kahlo utiliza el arte para expresar sus sentimientos. Jonah Winter y Ana Juan se asoman a la vida y la obra de esta gran pintora para ofrecerle un hermoso tributo con este maravilloso libro.
About the Author
---
Jonah Winter has written many exciting picture book biographies for children, with subjects that include Frida Kahlo, Diego Rivera, Barack Obama, and Dizzy Gillespie. He lives in Pittsburgh, Pennsylvania.
Ana Juan illustrated Frida, Jonah Winter's picture book biography of Frida Kahlo, which was an ALA Notable Book and received an Américas Honor Award. She also received the Ezra Jack Keats award for The Night Eater, her first book as author-illustrator. She lives in Madrid, Spain.
Praise For…
---
Praise for DIEGO (1991):"An accessible picture book about the life and work of Diego Rivera sounds like an oxymoron, but Winter . . . succeed[s] beyond belief. . . . The last pictures show him as a young man, perched on his scaffolding, brushes in hand, beckoning viewers on with his ardent glance. Readers will wish they could follow." -- School Library Journal"An excellent beginning biography." -- Kirkus* One of The Ruminator Review's 100 Best Children's Books of the Twentieth Century * A Reading Rainbow Review book* A 1991 Parents' Choice Award Honor winnerPraise for FAIR BALL! (1997):Certain to be a hit with kids who take baseball history seriously, Winter's . . . handsome volume devotes a spread each to 14 stars of the Negro Leagues. Balancing stats with engaging trivia and anecdotes, the author will open readers' eyes to the injustices of segregated baseball. . . . This picture book [will help set some records straight. -- Publishers WeeklyA good, highly accessible introduction to a group of athletes who deserve to be as well known as their white counterparts. -- School Library Journal

Praise for DIEGO (1991):"An accessible picture book about the life and work of Diego Rivera sounds like an oxymoron, but Winter . . . succeed[s beyond belief. . . . The last pictures show him as a young man, perched on his scaffolding, brushes in hand, beckoning viewers on with his ardent glance. Readers will wish they could follow." -- School Library Journal"An excellent beginning biography." -- Kirkus* One of The Ruminator Review's 100 Best Children's Books of the Twentieth Century * A Reading Rainbow Review book* A 1991 Parents' Choice Award Honor winnerPraise for FAIR BALL! (1997):Certain to be a hit with kids who take baseball history seriously, Winter's . . . handsome volume devotes a spread each to 14 stars of the Negro Leagues. Balancing stats with engaging trivia and anecdotes, the author will open readers' eyes to the injustices of segregated baseball. . . . This picture book [will help set some records straight. -- Publishers WeeklyA good, highly accessible introduction to a group of athletes who deserve to be as well known as their white counterparts. -- School Library Journal