Armadillo Rodeo (Hardcover)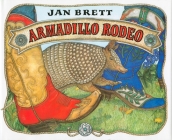 $19.99

Not currently on our shelves, but available to order (usually within a few days)
Description
---
Most armadillos are happy scratching sand and eating, but Bo longs for adventure. And adventure Bo gets, the day Harmony Jean breaks in her brand-new chili-pepper-red cowboy boots by the banks of Can Creek.

Peering out across the creek bed, Bo is sure he's spotted a rip-roarin', rootin'-tootin', shiny red armadillo! Bo's off and running after his new friend--right down to the Curly H Rodeo.

There Bo gets to do all the things he's dreamed of doing: he rides a bronc, eats red-hot chili peppers, and even tries the two-step. Bo is ready to follow his pal off into the sunset, but he is about to discover his new friend is no ordinary armadillo.

Jan Brett turns her considerable storytelling talents toward the Texas countryside in this warm and funny story of an armadillo on his own. Luckily, Ma Armadillo and her boys are searching for Bo in the borders to bring him back home.
About the Author
---
With over thirty four million books in print, Jan Brett is one of the nation's foremost author illustrators of children's books. Jan lives in a seacoast town in Massachusetts, close to where she grew up. During the summer her family moves to a home in the Berkshire Hills of Massachusetts.
As a child, Jan Brett decided to be an illustrator and spent many hours reading and drawing. She says, "I remember the special quiet of rainy days when I felt that I could enter the pages of my beautiful picture books. Now I try to recreate that feeling of believing that the imaginary place I'm drawing really exists. The detail in my work helps to convince me, and I hope others as well, that such places might be real."
As a student at the Boston Museum School, she spent hours in the Museum of Fine Arts. "It was overwhelming to see the room-size landscapes and towering stone sculptures, and then moments later to refocus on delicately embroidered kimonos and ancient porcelain," she says. "I'm delighted and surprised when fragments of these beautiful images come back to me in my painting."
Travel is also a constant inspiration. Together with her husband, Joe Hearne, who is a member of the Boston Symphony Orchestra, Jan visits many different countries where she researches the architecture and costumes that appear in her work. "From cave paintings to Norwegian sleighs, to Japanese gardens, I study the traditions of the many countries I visit and use them as a starting point for my children's books."
Praise For…
---
"Brett gives her trademark, exquisitely detailed art a Western flair..." (Publishers Weekly, starred review)