This Book Will Get You to Sleep! (Hardcover)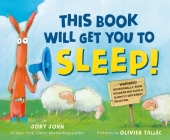 $18.99

On Our Shelves in the last 24 hours. Click to see a specific store location's stock.
Description
---
For little ones reluctant to say good night, this laugh-out-loud story from beloved author Jory John and internationally acclaimed illustrator Olivier Tallec will guide them through different methods of falling asleep—until they might just get tired after all.

ATTENTION, READER: This book is going to MAKE YOU TIRED! It will CALM YOU DOWN! Yes, this book WILL PUT YOU TO SLEEP! How? Easy.

There are monster trucks dashing across the pages. There are sheep being chased by dragons. There are electric guitars wailing throughout. Plus so MUCH MORE! Yep. All the typical stuff that makes you sleepy. So . . . are you asleep yet? No? Well, maybe another method would work better . . . So read on, and it's guaranteed you'll start to snooze!
About the Author
---
Jory John is a #1 New York Times–bestselling author of books for both children and adults. His previous collaboration with Erin Kraan was the popular picture book, Something's Wrong! His work also includes the New York Times–bestselling picture books The Good Egg and The Bad Seed; the award-winning Goodnight Already! series; the popular picture books This Book Will Get You to Sleep!, Penguin Problems, and Giraffe Problems. He lives in Silverdale, Washington.

Olivier Tallec is a children's book illustrator and graduate of the École Supérieure des Arts Appliqués in Paris. He has illustrated more than 150 books for children, including This Book Will Get You to Sleep, Who Done It, I Always Wanted One, and It's MY Tree, which he also wrote. He lives in France.
Praise For…
---
"Tallec's humorous, signature-styled pictures easily keep pace with the book's mock-serious tone, foregrounding a charismatic protagonist who will help kids find their way, if not to sleep, then at least to plentiful giggles." —Publishers Weekly, starred review

"Tallec's free-wheeling style shines as distraction upon distraction piles up on the book's high-energy double-page spreads. John's chatty narration and signature dry humor . . . propel the story with frenetic fun. Young audiences won't hesitate to join in." —Kirkus Reviews