The Hidden Factor: Mark and Gesture in Visual Design (Hardcover)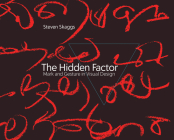 $29.95

On Our Shelves in the last 24 hours. Click to see a specific store location's stock.
Description
---
An exquisitely illustrated introduction to the gestural mark in the designed world, exploring the tension between marks, which are felt, and images and words, which are conceptual.

In The Hidden Factor, Steven Skaggs provides a beautifully illustrated and explained introduction to the mark—from those as physical as a scratch made by an animal, to those as accidental as a splatter of paint, to those as intentional as hand-drawn characters. Skaggs makes the case that, in the visual arts, gestures and mark-making operate on an equal level with image and word. While we might think of content as that which is communicated through text and images, Skaggs shows, through visual examples, that the gestural mark is often hidden within both images and the typographic forms that convey words.

By mapping different kinds of marks and showing how marks combine with image and word, The Hidden Factor explains that our desire for conceptual information suppresses our awareness of marking. This is especially the case with the tension between word and mark, where we desire legibility. As a result, one of the most conservative of arts—calligraphy—has the potential of being the most radical, since gesturally expressive handwriting is a natural threat to the legibility of a text.

Filled with expressive calligraphic art, graffiti, and other gorgeous marks, The Hidden Factor is an eye-opening read that brings to the fore the importance—and indeed, the prevalence—of the mark in everything we see.
About the Author
---
Steven Skaggs is Professor of Design at the University of Louisville and the author of Logos and FireSigns (MIT Press), which was named an Outstanding Academic Title for 2017 by the Association of College and Research Libraries. His font design, Rieven, received the Type Directors Award of Excellence in 2010, and his fine art calligraphic work is in the permanent collections of the Sackner Archive (University of Iowa), the Akademie der Künste (Berlin), and the Klingspor Museum (Offenbach).