Meet the Orchestra (Paperback)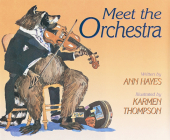 $7.99

The book is not currently in stock at our stores. Please call us for price and availability.
Description
---
This lyrical romp through the orchestra begins with animal musicians slowly gathering for the evening performance. Poetic descriptions suggest the sounds of the instruments, and lively watercolor illustrations capture the playful essence of each musician and musical instrument. "It's a smashing introduction to classical music, and a must prior to a first visit to the symphony."--Publishers Weekly

About the Author
---
Writer and artist Ann Hayes grew up near Chicago, graduated from the University of Chicago, and studied at the Art Institute there.